Welcome to Bun Cha Ta in Hanoi located at 21 Nguyen Huu Huan Street in Old Quater
Opening from 8h00 AM to 22h00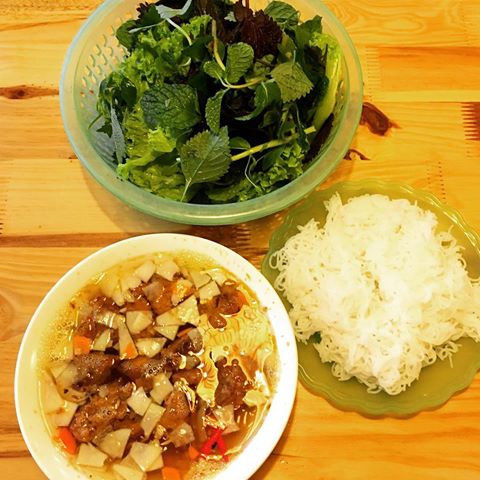 Bun Cha Ta is a Vietnamese dish of grilled pork and noodle, which is thought to have originated from Hanoi, Vietnam. Bun cha is served with grilled fatty pork (chả) over a plate of white rice noodle (bún) and herbs with a side dish of dipping sauce. The dish was described in 1959 by Vietnamese food writer Vu Bang (1913–1984) who described Hanoi as a town "transfixed by bún chả." Hanoi Bun Cha Ta 's first bún chả restaurant was on Gia Ngư street, Hoàn Kiếm District, in Hanoi's Old Quarter and moved to 21 Nguyen Huu Huan street in the old quarter of Hanoi now
Bún chả is popular in the Northern region of Vietnam and its recommended one of top ten street food in Hanoi ,Vietnam. In the South, a similar dish of rice vermicelli and grilled meat is called bún thịt nướng

After a regrettably lackluster bun cha experience at a random sit down place elsewhere in the city, my wife found Bun Cha Ta online and we opted to try it given the positive reviews. We immediately knew we'd be eating there again before we departed Hanoi. The quality and portions are amazing, and the staff is exceedingly friendly. The restaurant has plenty of seating and the food comes out fast and fresh. Order the full course bun cha for the best experience, and top it off with one of their egg coffees for a delicious finisher.
We ate at Bun Cha Ta at the recommendation of our hotel, just around the corner. Located at one end of "Coffee Street", Bun Cha Ta is a wonderful and very easy first-day option. The food is delicious and service is prompt. Owner-proprietor Katy is warm and welcoming, and will walk you through how to eat bun cha (traditional Hanoi specialty) if you've never had it before. Highly recommended!
My husband and I have been living in Hanoi for almost 2 months now and have had some delicious bun cha, but this place surprised us in the best of ways. The old quarter is certainly more touristy than other areas of Hanoi, but the food here is definitely worth the visit! We've been here multiple times and everything is always incredibly fresh and tasty. We have an addiction to nems (fried spring rolls) and theirs are the best we've had in Vietnam (and that's saying a lot)! The restaurant can get busy on weekends, but the waitstaff are always kind and more than happy to answer any questions or help you with your pronunciation. Lee, one of the waitresses we always have the pleasure of seeing here, is particularly helpful and goes out of her way to make sure we have a delicious meal and memorable experience. Highly recommended!